Wanted man captured after chase in car, on foot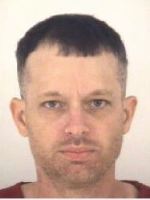 A wanted man was arrested in Columbus after fleeing from deputies and police officers in a car and then on foot.
According to the Bartholomew County Sheriff's Department, the incident started at about 7:12 p.m. Wednesday night when deputies were tipped off to 38-year-old Chawn Coomer of Columbus driving a car near U.S. 31 and Random Road. Coomer was wanted on several outstanding warrants. When deputies located the vehicle, they tried to pull Coomer over, but say that he refused to stop.
The chase continued into Columbus where city officers also joined the pursuit. Eventually, Coomer stopped at a home on McCullough Lane, jumped out of the car and tried to run away. But he was soon taken into custody.
He is facing new charges of resisting law enforcement with a vehicle, resisting law enforcement and reckless driving.
Photo courtesy of Bartholomew County Sheriff's Department