Columbus man among 32 arrested in Johnson County child solicitation stings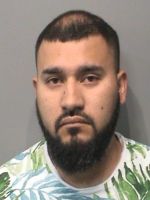 A Columbus man was among 32 people arrested by Johnson County authorities as part of a child solicitation sting operation last week.
According to the Johnson County Sheriff Duane Burgess, his deputies along with Franklin and Edinburgh police made the arrests from Tuesday to Thursday last week. He said the detail operated out of northern Johnson County, working in conjunction with Johnson County Prosecutor Lance Hammer.
Among those arrested was 32-year-old Herman R. Sanchez-Hernandez of Columbus, who was taken in by Edinburgh police Wednesday on preliminary charges of child solicitation and prostitution.
Arrested on Tuesday were:
Michael Alan Tooker Jr., 32, of Indianapolis: Child Solicitation, Level 4 Felony
William Raymond Wills, 59, of Marion: Child Solicitation, Level 4 Felony
Drew A. Wilde, 34, of Indianapolis: Child Solicitation, Level 4 Felony/Dissemination of Harmful Matter to Juvenile x2, Level 6 Felony
Adam Shaffer, 40, of Crawfordsville: Child Solicitation, Level 4 Felony/Possession of Marijuana, Misdemeanor
Terry E. Rickman, 34, of Homecroft: Child Solicitation, Level 4 Felony/Dissemination of Harmful Matter, Level 6 Felony/Possession of Controlled Substance, Misdemeanor/Possession of Marijuana, Misdemeanor
Steven Ralph Lewis, 62, of Indianapolis: Child Solicitation, Level 4 Felony/Dissemination of Harmful Matter to Juvenile, Level 6 Felony
Christopher S. Busch, 55, of Indianapolis: Child Solicitation, Level 4 Felony
David Frazee, 32, of Fishers: Child Solicitation, Level 4 Felony
Frantziou Delcine, 33, of Indianapolis: Prostitution, Misdemeanor
Benjamin Robert McCartney, 26, of Brownsburg: Child Solicitation, Level 4 Felony/Possession of Methamphetamine, Level 6 Felony/Possession of Marijuana, Misdemeanor/Possession of Paraphernalia, Misdemeanor
Sean Atkinson, 33, of Indianapolis: Child Solicitation, Level 4 Felony
Arrested on Wednesday were:
Matthew J. Mueller, 45, of Cicero: Child Solicitation, Level 4 Felony
Richard J. Cummings Sr., 65, of Beech Grove: Child Solicitation, Level 4 Felony
Rolando A. Cuahuizo, 33, of Indianapolis: Child Solicitation, Level 4 Felony
Fred Krispen Haas, 41, of Indianapolis: Child Solicitation, Level 4 Felony/Dissemination of Harmful Matter to Juvenile, Level 6 Felony/Possession of a Controlled Substance, Level 6 Felony/Possession of a Controlled Substance, Misdemeanor/Possession of Marijuana, Misdemeanor
Matthew D. McMahon, 37, of Fairland: Child Solicitation, Level 4 Felony
Mekhi Dupre Lewis, 23, of Indianapolis: Child Solicitation, Level 4 Felony/Making an Unlawful Proposition, Misdemeanor
Oluwaseyanu Akinola Afolabi, 24, of Indianapolis: Child Solicitation, Level 5 Felony/Prostitution, Misdemeanor/Possession of Marijuana, Misdemeanor
Tyrone J. Davidson, 48, of Indianapolis: Child Solicitation, Level 4 Felony/Possession of Marijuana, Misdemeanor
Michael Shawn Milligan, 58, of Dayton: Child Solicitation, Level 4 Felony/Dissemination of Harmful Matter to Juvenile, Level 6 Felony
Nicolas Isiah Washington, 23, of Avon: Child Solicitation, Level 4 Felony
Werner Najarro Casasola, 36, of Hermitage, Tennesee: Child Solicitation, Level 4 Felony/Prostitution, Misdemeanor
Bryan Parker, 43, of Indianapolis: Child Solicitation, Level 4 Felony/Making an Unlawful Proposition, Misdemeanor
Arrested on Thursday were:
Alexander Juarez-Aguilar, 21, of Indianapolis: Child Solicitation, Level 4 Felony/Possession of Marijuana, Misdemeanor
Nicolai Bright, 34, of Indianapolis: Child Solicitation, Level 4 Felony/Prostitution, Misdemeanor/Possession of Marijuana, Misdemeanor
Eustace Lorenz Ellis, 26, of Indianapolis: Child Solicitation, Level 4 Felony/Possession of Marijuana, Misdemeanor/ Possession of Paraphernalia, Misdemeanor/Synthetic Urine, Misdemeanor
Skanioyevensky M. Bien-Aime, 21, of Brownsburg: Child Solicitaion, Level 4 Felony
Adan Pablo Mateo, 32, of Indianapolis: Child Solicitation, Level 4 Felony/Making an Unlawful Proposition, Misdemeanor
Sean Andrew Montgomery, 25, of Indianapolis: Child Solicitation, Level 4 Felony/Prostitution, Misdemeanor
Martin Alvarez-Rodriguez, 35, of Indianapolis: Prostitution, Misdemeanor
Joshua Davis Denney, 39, of Indianapolis: Child Solicitation, Level 4 Felony/Possession of Marijuana, Misdemeanor