Indianapolis man formally charged in death of Bartholomew County woman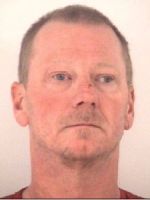 An Indianapolis man has been formally charged with the murder of a Bartholomew County resident last weekend.
According to Bartholomew County Prosecutor Lindsey Holden-Kay, 49-year-old Anthony Carter has been charged in the death of 40-year-old Ashley E. Neville. She was found dead in a home in the 500 block of East County Road 650S on Sunday, April 16th.
Bartholomew County deputies went to the home at about 5:28 a.m. that Sunday to check on the welfare of Neville after Carter's daughter called, saying he told the daughter that he had killed his girlfriend, Neville. Deputies couldn't get anyone to open the door and found the windows were covered up, there was a padlock on the front door and back door was blockaded.  The property owner allowed deputies to enter but they couldn't immediately find Neville.
Deputies received a report that there was a man hiding in the wood nearby and deputies found Carter and took him into custody.
Carter allegedly told authorities conflicting stories about a gunshot that injured Neville and that he eventually put a plastic bag with duct tape around her head and his hands over her mouth to smother her.
A search warrant was issued and Neville was found under a pile of clothing and other items on a bed.
An autopsy revealed she had been shot in the left side of her head.
Deputies said Carter then led police to the woods where the small pistol was recovered.