Columbus man accused in fatal Seymour hit-and-run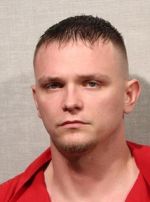 Seymour police have arrested a Columbus man in a hit-and-run accident that killed a  man and injured his daughter last month.
According to the Seymour Police Department, 73-year-old Charles M. Layman of Seymour was killed on March 24th at about 10:46 in the evening after being hit by a vehicle while crossing the street in the 600 block of South Vine Street. His daughter, 33-year-old Tiffany Brewer of Seymour, was also hit and treated at Schneck Medical Center for injuries to her face, hand and leg. The driver then left the scene.
Police say that they received information on the possible driver and the location of the suspect vehicle on Sunday. Yesterday, police interviewed the suspect, 28 year old Tre Xavier Vires of Columbus. After a search warrant was issued, police found the vehicle hidden in a garage at a home on Emma Drive in Seymour. The car had extensive damage to its front end.
Vires was arrested on preliminary felony charges of leaving the scene of a fatal crash resulting in death and leaving the scene of a personal injury crash resulting in catastrophic injury.
The investigation is ongoing.