Columbus National Guard unit gets new leader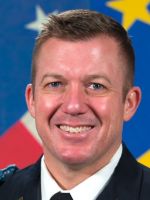 A Columbus based Indiana National Guard battalion has a new leader.
The Guard held a change of command ceremony last weekend for the 1st Battalion of the 151st Infantry Regiment with Lt. Col. Ben Tooley taking command from Lt. Col. Nick Roukas, who led the battalion since 2021.
Tooley said he couldn't be prouder to lead such a professional and selfless group of soldiers. And Roukas said the years with the Spartan Battalion were some of the best in his military career.
The Spartan Battalion supports units throughout central and southern Indiana including the Headquarters Company in Columbus and Company C, of the 2nd Battalion, 134th Infantry Regiment in Seymour, along with units in Greenfield, Indianapolis, Martinsville, Washington and Bedford.
The unit history goes back 212 years with Indiana soldiers serving in the Civil War, World War I, in the Pacific Theater in World War II and reconnaissance and intelligence gathering missions in Vietnam. The soldiers also served in more recent conflicts in Bosnia, Afghanistan and Iraq.