Columbus trooper promoted to detective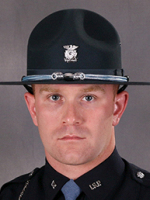 An Indiana State Police trooper from Columbus is being promoted to detective.
According to the Indiana State Police superintendent's office, Trooper Derek Eggers, a seven-year veteran, is being promoted.
Eggers is a 2010 graduate of Columbus North High School. He graduated from IUPUC in 2017. Before joining the state police, Eggers worked as a corrections officer with the Bartholomew County Jail for over six years. He joined the State Police in October 2016.
Eggers has been a Field Training Officer, Background Investigator, and a member of the Marijuana Eradication Team. Also, he has  been the director of the Columbus Law Camp since 2021.
State police say that the promotion process includes competing in written testing, interviews, supervisor recommendations, and the superintendent's review.
Det. Eggers will conduct criminal investigations in the Indiana State Police Versailles District, which includes Bartholomew, Dearborn, Decatur, Franklin, Jackson, Jefferson, Jennings, Ohio, Ripley, and Switzerland Counties.