Columbus woman facing drug-dealing charges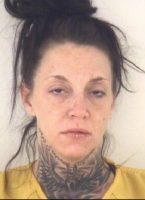 A report of an impaired driver Thursday night in Bartholomew County led to the arrest of a driver on drug-related charges.
According to the Bartholomew County Sheriff's Department, after the witness report, deputies found the vehicle and saw the driver make several traffic violations. After pulling the vehicle over for a traffic stop, a department police dog alerted to the odor of drugs in the vehicle. A search revealed more than 10 grams of methamphetamine inside. The driver, 32-year-old Briana McFarland of Columbus also admitted to carrying more than 10 grams of fentanyl.
She was arrested on preliminary charges of dealing in methamphetamine and fentanyl, as well as for possessing the drugs, a legend drug injection device and drug paraphernalia.
Evidence photo courtesy of Jennings County Sheriff's Department.