Teen dies in Edinburgh shooting Saturday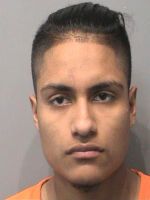 An Edinburgh teen was shot to death Saturday and a 20-year-old is in custody.
According to the Edinburgh Police Department, officers were called to the 600 block of South Pleasant Drive where they found a 14-year-old boy who had been shot in the chest. The boy was taken to Riley Hospital for Children where he was pronounced dead. Authorities have identified the victim as  Jonathon Elliott of Greenwood.
The suspect was identified by a witness as 20-year-old Pedro Castillo-Salmeron who had left the scene. Police located and arrested Castillo-Salmeron on a preliminary charge of reckless homicide.
Police say that there is no known motive for the shooting and they are still investigating.
If you have an information on the incident, you are asked to contact Edinburgh Police Chief Doyne Little at (812) 526-3500.