Fleeing driver injures Seymour police officer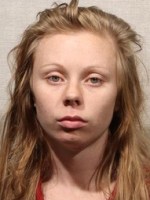 A Seymour police officer was injured yesterday by a driver trying to flee with her baby from the scene of a domestic disturbance call.
According to reports from the Seymour Police Department, officers were called to the 700 block of East Fourth Street yesterday about the disturbance. During their investigation, 21-year-old Rachel Blake of Seymour wanted to leave, taking her 9-month-old child with her. But an officer noticed that her car seat was incorrectly installed and offered to help fix it.
However Blake thought police were going to take her child, police say. So she got into her car with the baby in her arms and backed up, striking Officer Sam Hughes. Hughes was knocked to the ground. Blake then fled from the area, before crashing on U.S. 31.
The baby suffered minor injuries in the crash and was taken to Schneck Medical Center for treatment.
Officer Hughes was taken to Schneck's emergency room where he was treated and released.
Blake is facing charges of criminal recklessness with a deadly weapon, battery on a police officer, leaving the scene of an injury accident, resisting law enforcement with a vehicle, and neglect of a dependent.