North Vernon man convicted in gang-related shooting death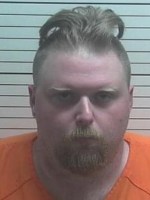 A North Vernon motorcycle gang member has been found guilty of murder and other charges in Jefferson County after a 2021 gang shootout that resulted in the death of a gang member.
According to reports from the Jefferson County prosecutor's office, members of the Pagans and Warlock motorcycle gangs were on John Deere Road near Dupont in June of 2021 with handguns, knives, and handcuffs to confront a man they believed had been wearing tattoos, colors and patches of a motorcycle gang, despite not being a member. But when they approached the home, gunfire broke out and Pagans gang member 35-year-old Dustin B. Lindner of Georgetown, Kentucky was killed.
The gang members fled in two vehicles, but crashed into each other on John Deere Road. They then disposed of firearms and gang paraphernalia in cornfields and various bodies of water and tried to dispose of a vehicle.
Indiana State Police arrested North Vernon resident Michael J. Karnuth, also known as "Billy Goat", who was president of a Warlocks chapter known as the Heavy Hitters. He was arrested at a Warlocks home in Rising Sun.
According to the prosecutor's office, evidence was presented at the trial which concluded Monday that Karnuth saw the man with the phony tattoos and patches at a gas station in North Vernon. The gang members met at Karnuth's house prior to traveling to Dupont and made multiple trips to John Deere Road before the shooting.
Karnuth is facing between 90 and 130 years in prison after being found guilty of murder, attempted burglary committed while armed with a deadly weapon, attempted robbery Committed While Armed with a Deadly Weapon and Obstruction of Justice. Karnuth was also found to have been a member of a criminal organization and that he committed the crimes to further the interests of the organization.
Sentencing is scheduled for March 15th.