Suspect accused of trying to arrange sex with 14-year-old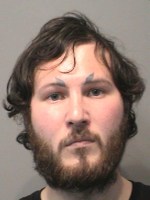 A Sunman man is facing child solicitation charges in Johnson County after making sexual advances to what he thought was a 14-year-old online.
According to reports from the Johnson County Sheriff's Department, 26-year-old Ordis Daniel Gilbert Perry took part in the conversations with the supposed teen starting in November and made arrangements to meet in person at a location in Franklin on Tuesday. That's when he was arrested by investigators with the sheriff's department on preliminary charges of child solicitation, dissemination of harmful matter to a minor and patronizing a prostitute.
Johnson County Sheriff Duane Burgess praised the Franklin Police Department and the Johnson County Prosecutor's office for the continuing work to protect the children in Johnson County.