Wanted man accused of brawling with deputies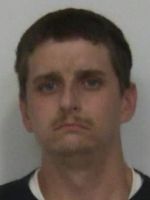 A wanted North Vernon man is facing new charges after he struggled with deputies early Thursday morning.
According to the Jennings County Sheriff's Department, a deputy stopped a vehicle for a traffic violation at about 1 a.m. yesterday morning and recognized that the driver was wanted on an outstanding warrant. But rather than get out of the vehicle, the wanted man, identified as 28-year-old Nicholas Barlow, refused to follow police orders, rolled up his windows and locked the doors.
More deputies arrived on the scene and removed Barlow from the vehicle while he fought with officers, including hitting a deputy in the face, breaking the deputy's eyeglasses.
Barlow was taken into custody on new preliminary charges of battery on a public safety official, resisting law enforcement and criminal mischief. He was originally wanted on a warrant for dealing heroin and possession of a narcotic drug.