Wanted Columbus man arrested after cornfield chase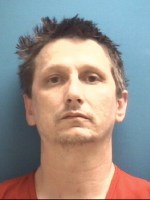 Deputies say a Columbus man wanted on drug dealing charges was arrested after running from authorities over the weekend.
According to Bartholomew County Sheriff's Department reports, deputies attempted to serve a warrant for dealing in methamphetamine at about 4:41 p.m. Sunday afternoon in the 4300 block of West County Road 500S. The man, 42-year-old Sean Cobb was seen walking near a garage but rather than stop, he ran into a cornfield according to police reports.
Several deputies chased Cobb before he could be taken into custody. A search revealed that he was carrying narcotics police say. Although he was uninjured in the chase, Cobb was taken to Columbus Regional Hospital to be checked out because of recent suspected drug use.
In addition to the original warrant, Cobb is facing new charges of resisting law enforcement and drug-related charges. Detective Dane Duke, spokesman for the sheriff's department, said that Cobb is being held without bond due to the warrants and the new charges.